Van Cisco Select Certified Partner naar Cisco Premier Certified Partner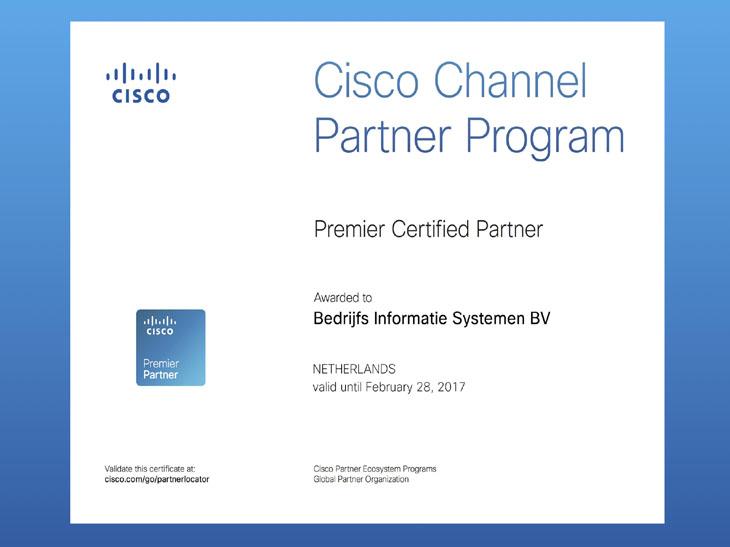 Goed nieuws! BIS is onlangs benoemd tot Cisco Premier Certified Partner. Het Premier Partnerschap van Cisco is weer een niveau hoger dan het Cisco Select Certified Partnerschap dat BIS eerder behaalde en vormt de volgende stap in de doorgaande professionalisering van BIS als hoogwaardige kennispartner op het gebied van collaboration en videoconferencing.
Intensieve training en strenge toetsingscriteria
Om de hoogwaardige Cisco Videoconference en Collaboration producten en diensten aan te mogen bieden, hanteert Cisco een streng toelatingsbeleid. Om de benodigde certificaten en specialisaties te behalen én te behouden worden onze Collaboration specialisten continue intensief getraind en aan strenge toetsingen onderworpen. Het resultaat is dat BIS zich niet alleen erkend aanbieder mag noemen, maar ook een gedegen gesprekspartner vormt én een organisatie is die de kwaliteit van de Cisco oplossingen kan (waar)borgen; zowel tijdens het implementatieproces als daarna.
Diverse specialisaties om Cisco Premier Partner te worden
Om Premier Partner te zijn, moet een organisatie – naast alle Premier Partner basiskennis – aantoonbaar beschikken over één of meerdere Cisco specialisaties. Doordat BIS onlangs de Advanced Video Specialization van Cisco heeft behaald en al in het bezit was van de Cisco Small and Midsize Business Specialization voldoen wij ook ruimschoots aan deze eis, waardoor we onze opdrachtgevers voortaan als Premier Certified Cisco Partner mogen ontzorgen.
Een overzicht van onze Cisco certificeringen
Certifications:
Premier Certified Partner
Specializations:
Advanced Video Specialization
Small and Midsize Business Specialization
Services Reseller:
Other Authorizations:
Registered Partner
GPN Resale Host
ATP - Cisco TelePresence Video Advanced
Meer informatie? Profiteren van onze kennis?
Wilt u meer informatie over uw mogelijkheden met de geavanceerde producten en oplossingen van Cisco? Profiteren van de toegevoegde waarde van onze kennis als Premier Partner?

Bel ons of neem contact op via een van de mogelijkheden rechts.