In the spotlight: groot(s) presenteren! Met projector of videowall?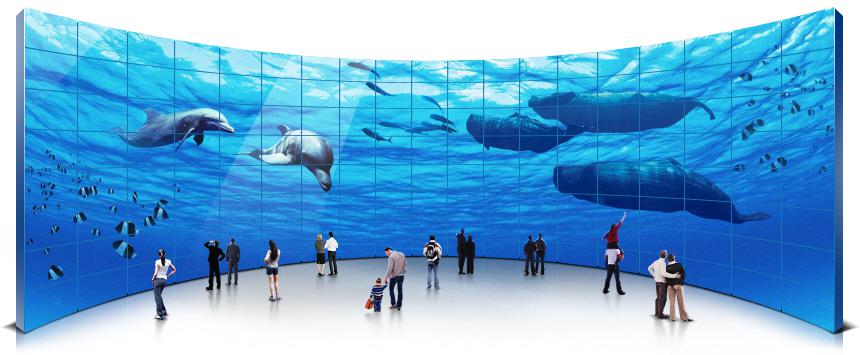 Zeker als u vaak belangrijke zaken deelt en er regelmatig in teamverband beslissingen moeten worden genomen, wilt u dat uw informatie gezien wordt; dat er aandacht is voor uw presentaties. Juist daarom besteedt u waarschijnlijk veel tijd aan de voorbereidingen van uw presentaties en is het voor u van belang dat uw presentaties overtuigend overkomen. Daarom wilt u indrukwekkend en groots kunnen presenteren.
Indrukwekkend presenteren op groot formaat kon nog niet zo lang geleden alleen met inzet van een hoogwaardige projector (high-end beamer). Maar dat is niet meer zo. Tijden veranderen. De technologie ontwikkelt zich in hoog tempo en mede dankzij de wereldwijde groei in aantallen, dalen de investeringskosten voor videowalls aanzienlijk, waarmee zij een aantrekkelijk alternatief voor projectie zijn geworden. Inmiddels integreren wij prachtige videowalls in steeds meer ruimtes en toepassingen en bij steeds meer organisaties.
De vraag is echter of een videowall altijd en overal de beste oplossing is voor grootbeeldweergave? Het antwoord daarop is: heel vaak wel! Maar soms zijn er situaties waarin het beter kan zijn om te kiezen voor krachtige projectie. De keuze voor de inzet van of een videowall of projectie is van meerdere factoren afhankelijk. Wij vertellen u graag welke factoren dit zijn.
Wij adviseren u graag welke technologie het beste past bij uw gebruikssituatie, doelstellingen en organisatie. Maak een afspraak en ervaar wat BIS voor u kan betekenen.
Bel vandaag nog: 015 287 487 of vul ons contactformulier in.